2 minute read
SC Johnson Celebrates Scrubbing Bubbles® Bottles Containing Plastic from Cups Collected at American Family Field™
The special-edition Citrus Scent Bathroom Cleaner Spray Bottles are the product of a first of its kind recycling partnership and will be sold in 12 Wisconsin Meijer stores
We hope you'll attend the event at noon Aug. 31 at the Greenfield Meijer store (5800 W Layton Ave).

Brewers™ shortstop Willy Adames will meet with fans.

Representatives from SC Johnson and Meijer will celebrate the new special-edition Scrubbing Bubbles® bottles containing plastic from cups collected at Brewers games.

Media should RSVP to

media@scj.com

.
RACINE, Wis., August 29, 2023 – SC Johnson, in partnership with the Milwaukee Brewers™, will celebrate a special-edition Scrubbing Bubbles® bottle that contains plastic from cups collected at American Family Field™. The unveiling of the Citrus Scent Bathroom Cleaner Spray Bottles will take place alongside a special appearance from Brewers™ shortstop Willy Adames, as he meets fans at the Greenfield Meijer store. 

SC Johnson helped the Brewers become the first U.S. professional sports team to link a waste stream to a specific product, creating a closed-loop recycling approach. About 700,000 plastic cups are used annually at American Family Field. Today, only 13% of plastic packaging nationwide is recycled, and much of what is placed into mixed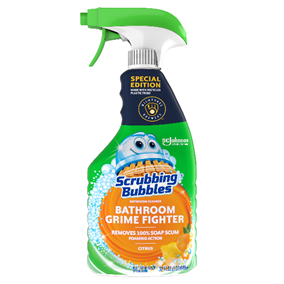 recycling bins is not recyclable at all. Since 2021, baseball fans have stepped up to the plate, recycling their SC Johnson branded plastic cups into specially marked receptacles at the ballpark. Through the Brewers recycling program, SC Johnson has now upcycled the plastic into part of the recycled content in Scrubbing Bubbles® bottles. 

Made of 100% recycled plastic overall, 25% of the recycled plastic used in each special-edition Scrubbing Bubbles® bottle comes from recycled plastic cups used at both Milwaukee Brewers and Milwaukee Bucks™ games. 

"Our partnership with SC Johnson takes recycling to a new level," said Rick Schlesinger, Brewers President – Business Operations. "Today, we are seeing the results come to fruition. Fans are using the plastic cups at American Family Field and disposing of them into specially marked bins around the ballpark. From there, SC Johnson collects the cups, which have now been manufactured into Scrubbing Bubbles® bottles. This is a concrete example of fans coming to the ballpark and making an impactful contribution to sustainability." 

The special-edition Scrubbing Bubbles® bottles, which are recyclable, are available at 12 Wisconsin Meijer stores in Appleton, Grafton, Green Bay, Greenfield, Kenosha, Manitowoc, Oak Creek, Pewaukee, Sheboygan, Waukesha, Wauwatosa and West Bend through October 2023.

"At Meijer, we're thrilled to serve communities that champion sustainable progress and innovation," said Erik Petrovskis, Director of Environmental Compliance and Sustainability at Meijer. "As we remain committed to waste reduction, this exceptional achievement of the Brewers in partnership with SC Johnson resonates profoundly with our core values and sets a clear tone on how other organizations can consider similar initiatives."

SC Johnson has similar professional sports partnerships with the Milwaukee Bucks and Liverpool Football Club. 
About SC Johnson
Founded in 1886 and headquartered in Racine, Wisconsin USA, SC Johnson believes that a more sustainable, healthier and transparent world that inspires people and creates opportunities isn't just possible – it's our responsibility.
A heritage of innovation and bold, transparent decisions is why our high-quality products and iconic brands – including OFF!® Raid®, Glade®, Windex®, Scrubbing Bubbles®, Ziploc®, Mrs. Meyer's Clean Day®, method®, Autan®, Baygon®, Mr Muscle®, Duck®, Lysoform® and more – are in homes, schools and businesses in virtually every country worldwide.
As a global, purpose-led company, we are committed to making the world a better place today and for future generations. That means relentlessly bringing our expertise in science, innovation and partnerships to bear on some of the world's most pressing environmental and health issues like reducing plastic waste and eradicating malaria. Around the world, we use our resources to unlock greater economic and educational opportunities for people and communities where access may be limited, but curiosity and potential are limitless. 
See how SC Johnson is a Family Company At Work For a Better World by visiting scjohnson.com or joining us on Facebook, Twitter, LinkedIn, Instagram, YouTube and TikTok.

About Meijer
Meijer is a Grand Rapids, Mich.-based retailer that operates more than 500 supercenters, Meijer Grocery, neighborhood markets and Express locations throughout Michigan, Ohio, Indiana, Illinois, Kentucky and Wisconsin. A privately-owned and family-operated company since 1934, Meijer pioneered the "one-stop shopping" concept and has evolved through the years to include expanded fresh produce and meat departments, as well as pharmacies, comprehensive apparel departments, pet departments, garden centers, toys and electronics. Follow Meijer on Twitter @twitter.com/Meijer and @twitter.com/MeijerPR or become a fan at www.facebook.com/meijer