3 minute read
Fact Sheet: SC Johnson's Waxdale Facility
For more than 60 years, SC Johnson's largest global manufacturing facility has operated right in our headquarters community, in Mt. Pleasant, Wisconsin.

Today, the facility, called "Waxdale," is the birthplace of millions of trusted household products every year. Products made at Waxdale are used all over the world. Plus, Waxdale is home to the largest wind turbines located at a manufacturing facility in Wisconsin. 

Here's a look at Waxdale and what makes it unique…
How Big is Waxdale? 
The buildings at Waxdale cover 2.2 million square feet – about the size of 36 U.S. football fields.


The facility's main aisle is three quarters of a mile long from north to south.


Waxdale has its own fire brigade, medical center and cafeterias.


The facility's fire protection system, alone, contains 25 miles of piping.


Waxdale's operations include 15 finished goods manufacturing lines and a components plant.
What Products are Made at Waxdale? 
Glade®, Windex®, Pledge®, Scrubbing Bubbles®, Shout®, Raid® and OFF!® are all among the trusted household products made at Waxdale.


Waxdale is one of the largest and fastest single-site aerosol producer in the world, producing 430 million aerosol cans each year.


The facility has some lines capable of producing up to 500 aerosols per minute.


Altogether, Waxdale produces 60 million cases of product each year.
How has Waxdale Worked to Reduce its Impact?
In 2012, SC Johnson installed two 415-foot wind turbines at Waxdale. They generate about 8 million kWh of electricity each year, enough to power 700 homes year.


The wind turbines eliminate about 6,000 metric tons of carbon emissions annually.


Combined with two gas-fired cogeneration turbines that have been in place since the mid-2000s, Waxdale is now able to

generate most of its electrical energy onsite

.


The cogeneration systems use waste methane gas from a nearby public landfill and clean-burning natural gas to generate electrical energy.


Like all SC Johnson facilities, Waxdale works to

continually reduce manufacturing waste

.


Waxdale also has a no-idling policy and uses bio-diesel for spotter trucks that move trailers to and from warehouse dock doors.


SC Johnson uses load-building software to

increase truckload utilization for product shipments

, which reduces overall shipments and emissions.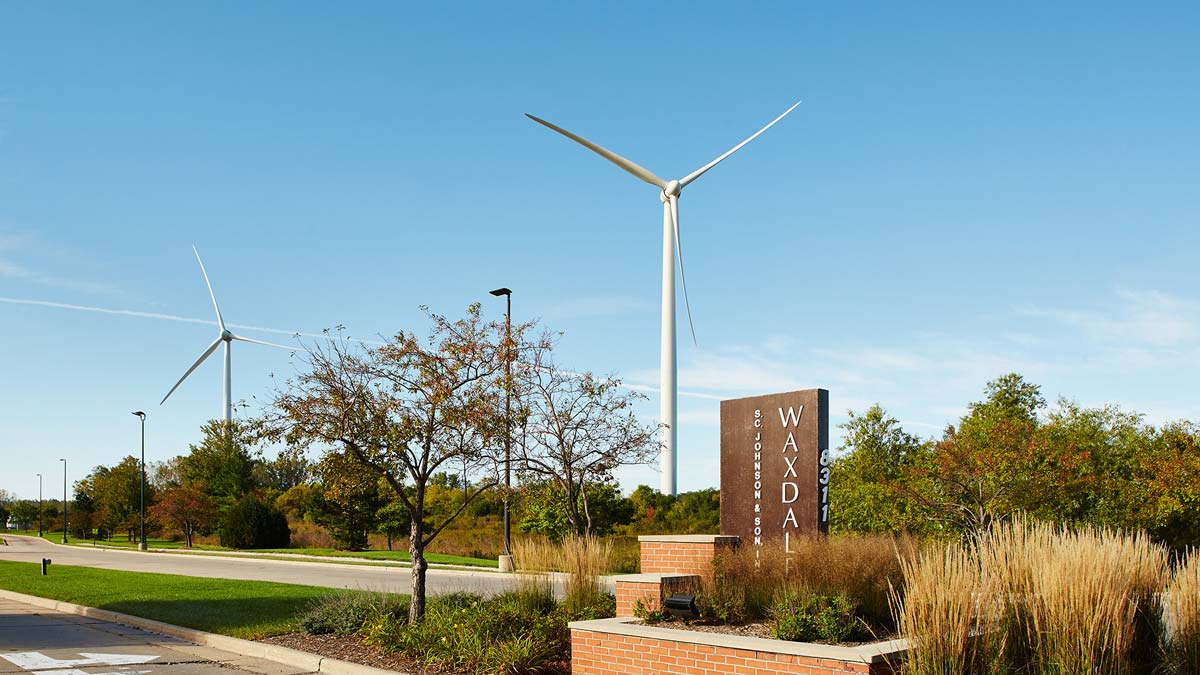 Waxdale's two wind turbines soar 415 feet into the air near the manufacturing facility.
About the Waxdale wind turbines:
Format: Gearless, direct-drive generator which reduces mechanical wear and increases energy yield


Generator: Synchronous generator with permanent magnet excitation


Rated Power: 1,500 kW


Tower/Hub Height: 280 feet


Blade Length: 135 feet


Total Height: 415 feet


Speed Range: 9-17.3 rpm


Model: Vensys 1.5 MW 82


Foundation: Extends more than 10 feet deep, made of more than 800 tons of concrete and 36 tons of steel rod for stability and support even in severe weather


Function and Speed: Blades begin turning when wind speed is 7 mph and stop turning if wind exceeds 50 mph. The nacelle can turn a full 360 degrees so that it can point into any wind direction and direct the pitch of the blades into the wind. A blade pitch system controls the power output and motor speed for optimal efficiency.