4 minute read
Social Enterprise at the Base of the Pyramid: A Case Study from SC Johnson
SC Johnson has been working for years to develop sustainable business solutions that raise the standard of living and provide opportunities for a better quality of life for base of the pyramid families.

There are 4 billion people globally at the base of the economic pyramid – earning less than a few US dollars a day. Many live-in areas where malaria and other mosquito-borne diseases take a terrible toll every year.

One example of a social enterprise we have tried is partnering with The Coca-Cola Co. in the EKOCENTER program. These modular retail experiences, run by women, provide safe drinking water, sanitation, solar energy and wireless communication in countries like Rwanda and Vietnam. They also sell basic goods including OFF!® mosquito repellent lotion, Baygon® mosquito coils and KIWI® shoe polish. 

An earlier enterprise example was the WOW™ business concept, which aimed to create an economically sustainable business model that enabled malaria prevention through affordable, accessible and compelling products. It came to life through a club membership model.
The WOW™ Bundled Product Refill Model
Launched in 2012 as a partnership between SC Johnson, Cornell University's Center for Sustainable Global Enterprise, and The Bill & Melinda Gates Foundation, the initial pilot in Bobikuma, Ghana was a club that allowed consumers to buy SC Johnson products and learn about avoiding mosquito bites and keeping their homes clean. 
The idea was to increase behaviors that help prevent mosquito bites, by providing products, continuing touchpoints and opportunities for education.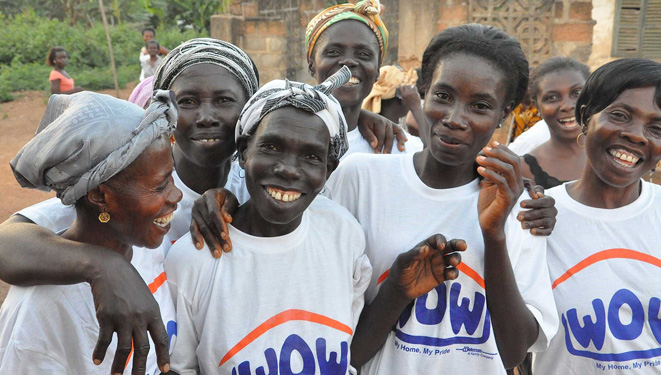 Sonia from the of Gatsinsino in Nyanza Province, Rwanda. 
Following two years of extensive, in-home consumer research, the program expanded in 2014 to the Yilo Krobo District of Ghana. The new program included local sales agents selling products in their communities and coaching consumers about product use and benefits.

It also included a new product bundle that reflected local consumer and purchasing insights gathered from the researchers who had lived among rural Ghanaian residents. Customers could subscribe to a monthly bundle of products and opt into a loyalty rewards program. This gave customers a way to pay slowly over time for items they valued. 
Lessons Learned, But with Limited Growth Potential
While the new effort continued to provide new learnings and insights, the business model didn't achieve financial viability. This was in part due to high costs associated with operating a proprietary versus shared distribution channel.

We also learned that our product offering was too limited. While pest control products provide a vital service, they alone were not desirable enough to drive sales. The lack of diverse product offerings limited sales, which led to frequent turnover of the SC Johnson sales agents.

From this experience, these considerations emerged for future potential initiatives:
Provide diverse portfolio of product offerings
Explore a kiosk model to help diversity and draw consumers, while reducing the high sales volumes required for the bundled product refill model
This would also help offset the cost of hiring, training and paying sales agents