4 minute read
Environmental Partnership: SC Johnson and Conservation International Work Together to Fight Deforestation
When it comes to supporting sustainability and protecting the planet, no one organization can do it alone. At SC Johnson, we're proud to have partnered with Conservation International for more than 15 years to help safeguard forests and preserve natural resources.
In just the last few years, together we've completed the largest-ever acre-for-acre match program to conserve the Amazon rainforest. The funds from the campaign will be used to protect tropical forests and replant approximately 3 million trees in the Amazon region.
Corporate Social Responsibility: Tackling Sustainability Challenges
Since 2001, SC Johnson has served on the board for Conservation International's Centre for Environmental Leadership in Business. In 2009, we became a founding member of Conservation International Team Earth, a worldwide preservation effort unifying business, nonprofit organizations and other participants to confront environmental issues.
It was a logical extension of SC Johnson's own commitments. At the time, we had already surpassed our 2011 sustainability targets of reducing greenhouse gas emissions from factories by 27% compared to our 2000 baseline. Today, we have achieved a 55% reduction in greenhouse gas emissions as well as reduced waste from our global sites by 79%.
SC Johnson also has worked with Conservation International through its REDD+ program in the Peruvian Amazon to engage communities in conservation, safeguarding forests and securing livelihoods while offsetting carbon emissions.
SC Johnson and Conservation International Elevate Rainforest Conservation
We partnered with Conservation International to support the virtual reality film Under the Canopy. As part of that program, we invited people around the world to help protect 10,000 acres of the Amazon rainforest through an acre-for-acre matching campaign. The program brought donations to Conservation International's website from all 50 U.S. states and 31 countries.
The funds raised are being used to kick off the world's largest tropical reforestation project in the Brazilian Amazon. The multimillion-dollar, six-year project, which is the result of a partnership between Conservation International, the Brazilian Ministry of Environment, the Global Environment Facility (GEF), the World Bank and Rock in Rio, will restore 73 million trees in the Brazilian Amazonia region by 2023.
The endeavor will also help Brazil move toward its Paris Agreement target of reforesting 12 million hectares of land by 2030.
Global Conservation Hero: Recognition for Sustainability Leadership
SC Johnson received Conservation International's most prestigious award: the Global Conservation Hero award. It's given to individuals and organizations whose environmental commitment and actions have had a transformative impact for the good of the planet and its people.
Recipients included Fisk Johnson, our chairman and CEO, as well as actor Harrison Ford and Luis Justo, CEO of Rock in Rio.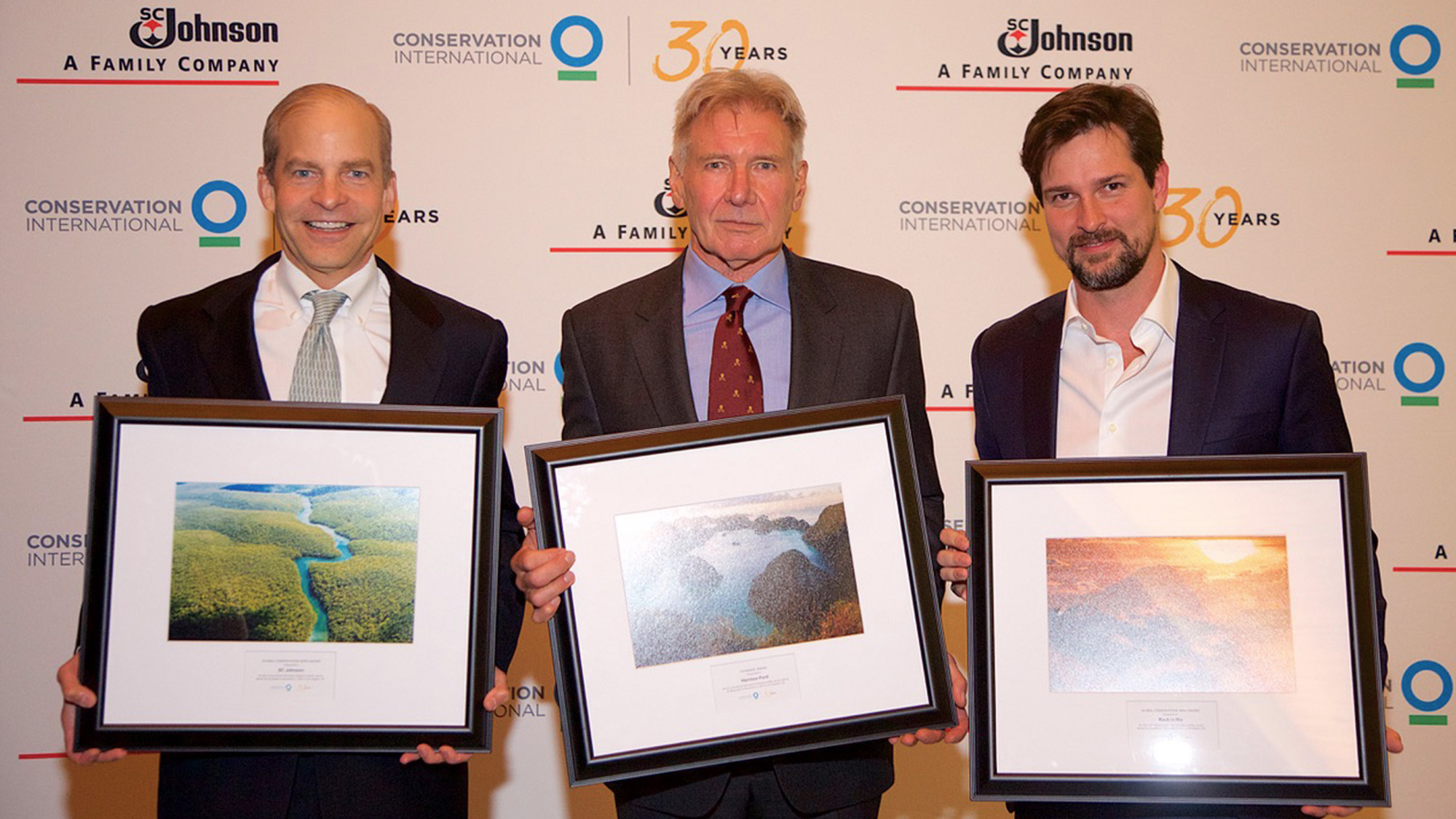 Conservation International honored Fisk Johnson, Chairman and CEO of SC Johnson; actor Harrison Ford; and Luis Justo, CEO of Rock in Rio for their leadership in preservation.
"Tropical rainforests are one of the planet's most vital ecosystems, needed by people everywhere to thrive," said Fisk when talking about the award. "We are honored to be recognized by Conservation International for our contributions to the health and future well-being of Amazonia. Protecting forests is critical to protecting our future, and I hope that our support encourages others to get involved."
"SC Johnson's bold commitment to help protect the Amazon rainforest – particularly the recent action to save 10,000 acres of Amazonia in partnership with Conservation International earlier this year – demonstrates exemplary leadership and a deep connection to ensuring the health and prosperity of Amazonia, its indigenous communities and the rest of the world," said M. Sanjayan, CEO of Conservation International.
It's a commitment we intend to continue.