6 minutes
Introducing Waxbird Commons: How SC Johnson is Working to Achieve Net Zero Energy at Global Headquarters
If you've ever visited SC Johnson's global headquarters in Racine, Wisconsin, you know that we take great pride in the iconic buildings on our campus. From Frank Lloyd Wright's Administration Building and Research Tower, to the Foster + Partners-designed Fortaleza Hall, our buildings are designed to inspire and represent our company's forward looking approach.

Waxbird Commons, our newest redesigned building named after our company's first airplane, the Johnson Waxbird, continues this storied legacy.
As a company with a longstanding commitment to the environment, we've worked to implement updates to our campus that underscore – and bring to life – our sustainability efforts through an innovative, sustainable design. Combined with other sustainability projects, this investment will help reduce campus energy consumption by approximately 66%, with a pathway to reaching net zero energy by 2025.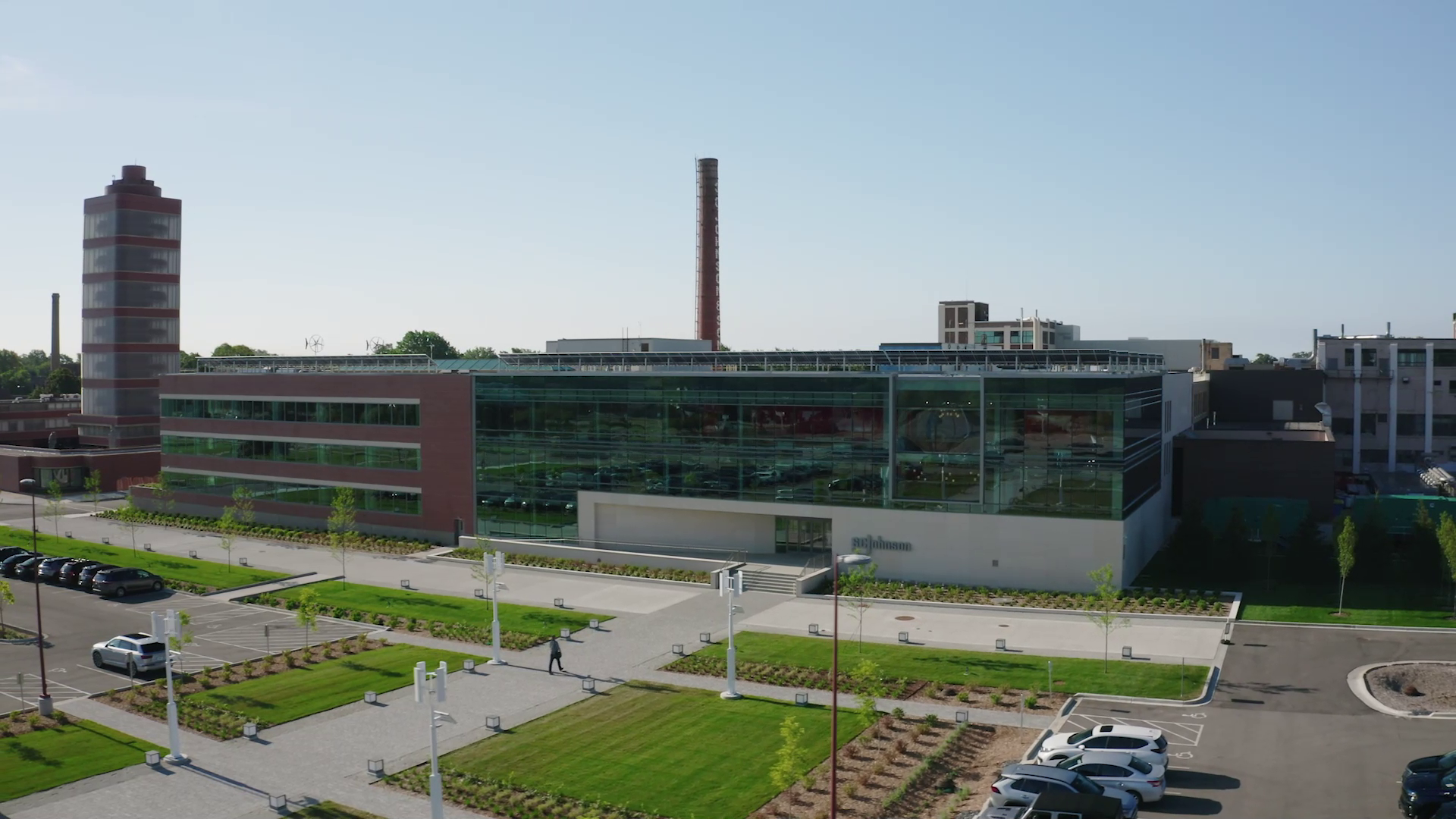 New features include:
Geothermal Exchange:

The campus is using the constant temperature of the Earth, 55 degrees, to heat and cool the buildings. A total of 330 vertical bores are in place providing sustainable heating and cooling, a move that reduces energy usage by an estimated 35%.

Solar Energy:

More than 500 solar panels are mounted to the roof of Waxbird Commons, creating power and offsetting energy consumption from the grid with self-generated renewable energy. Approximately 20% of these solar panels are high performing, bifacial panels which produce 30% more energy than traditional panels.

Photovoltaic-Wind (PV) Lights:

The several photovoltaic-wind lights installed on campus are self-sufficient using wind and solar power to provide lighting to walkways and a parking lot.

Recycled Asphalt Pavement:

A portion of the asphalt pavement on campus is mixed with low-density polyethylene plastic, creating an end market for nearly one thousand pounds of plastic film. The recycled low-density polyethylene plastic is added to the asphalt as a binder, maximizing the life of the pavement.
Waxbird Commons is on track to earn Leadership in Energy and Environmental Design (LEED) Gold Certification from the U.S. Green Building Council. Waxbird uses a Sustainability Office Scorecard, which will also be used as a guide for goal setting and project planning at each of our office locations.

Around the globe, SC Johnson facilities and operations use creative solutions to minimize waste, such as collecting and reusing wastewater, diverting paper and plastic waste for recycling, and blending production waste with onsite biomass to heat water for production. Here are some of the other efforts we have underway that are helping to reduce waste and lower our carbon footprint:
We have achieved a 68% reduction in greenhouse gas emissions from manufacturing versus the 2000 baseline (indexed to production); the goal is 90% by 2025.
35% of our total energy use is from renewable sources; the goal is to reach 50% by 2025.

Since 2019, all of SC Johnson global consumer brand business unit factories send zero manufacturing waste to landfill, and our other facilities are also working toward that goal.

Waxdale

, our largest global facility, located in Mount Pleasant, Wis., has two 415-foot wind turbines that produce 8 million kilowatt-hours of electricity each year.

Three manufacturing sites

– Bay City, Michigan; Mijdrecht, Netherlands; and Gorzow, Poland – run on 100% wind energy.

One of our manufacturing facilities in Malle, Belgium runs on 100% renewable electricity and diverts 100% of all waste from landfill. Another of our manufacturing facilities in Chicago diverts 95% of all waste from landfill, putting it on target for 100% by 2023.
Waxbird Commons features a contemporary and collaborative design, with elements that focus on key historical moments that helped establish and guide the purpose and culture of our company today, including company artifacts and rooms named after influential individuals in our company's history.