3 minute read
Home Run! SC Johnson and Milwaukee Brewers Partnership is a Win for the Planet
Fans returning to Milwaukee Brewers' American Family Field in 2021 are in for more than just a great game. They'll also get to play a part in a first-of-its-kind opportunity to help reduce plastic waste and support a more sustainable world. 
Announced in 2020 and commencing with return of fans to the ballpark for the 2021 season, plastic cups used at the ballpark are being collected in specially marked receptacles and will be upcycled into packaging for SC Johnson's Scrubbing Bubbles® product.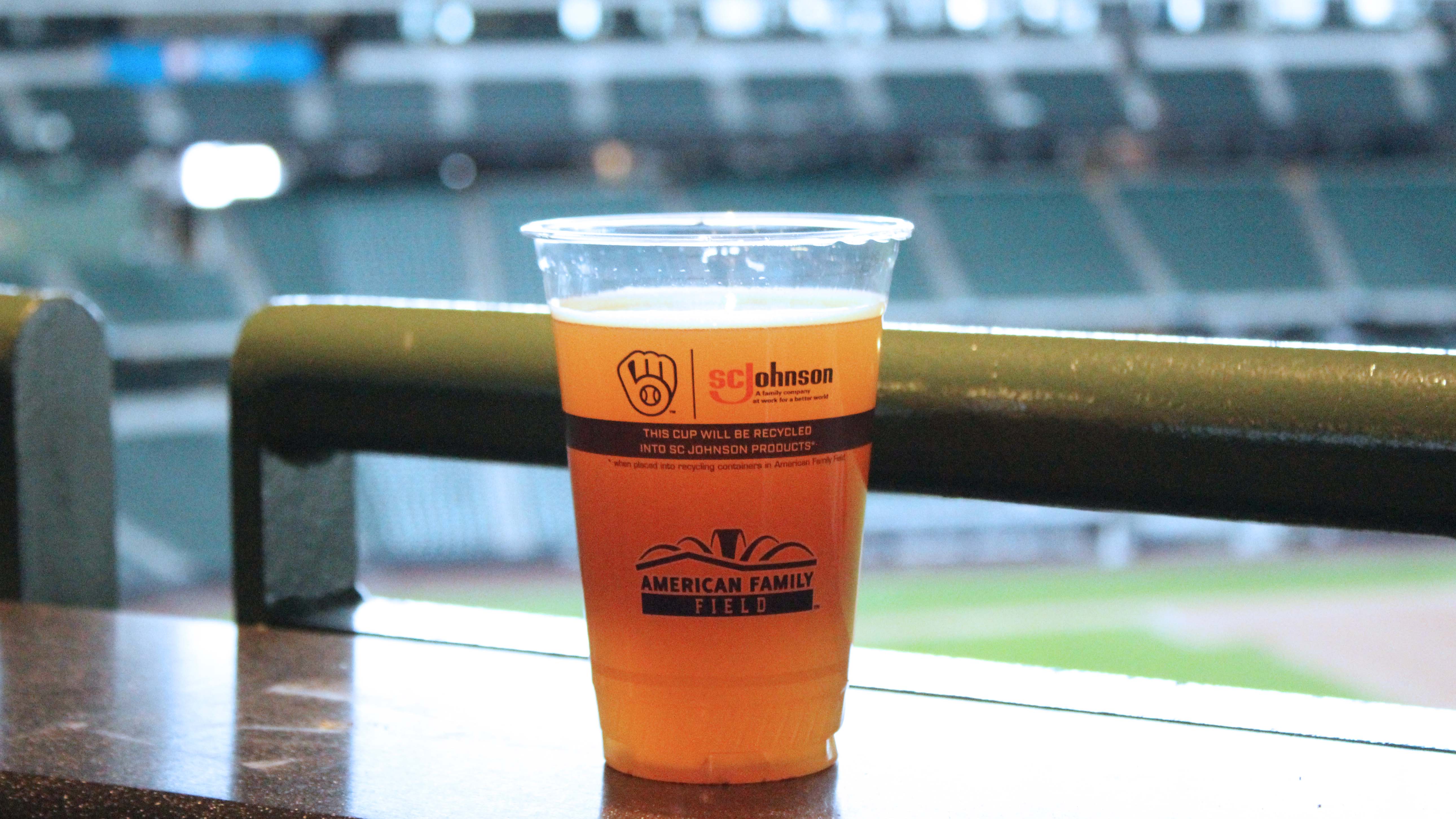 Pitcher Brent Suter, who helped announce the partnership in 2020, explained, "I am excited that the Brewers and SC Johnson are teaming up to bring greater awareness to important issues like recycling and ocean plastics. We can all make a positive impact in our homes, our communities and with this program in place, we can now make a direct impact at the ballpark."
Here's what makes this partnership a game changer:
It supports a clean recycling stream. Only about 14% of plastic containers and packaging in the U.S. are recycled. By collecting drink cups in specially designed receptacles throughout the ballpark, SC Johnson and the Brewers are ensuring that more of the plastic can be recycled.
It creates a new end market for recycled plastic. One of the biggest barriers to plastic recycling is the lack of markets for the recycled material. SC Johnson and the Brewers are closing that loop by upcycling the plastic cup waste stream to a specific product: Scrubbing Bubbles® bottles. It's the first time a U.S. professional sports team has taken this step.
It meets an important need. Plastic cups are one of the biggest sources of waste at a ballpark. In a typical year at American Family Field, more than a million plastic cups could be used. Demonstrating the benefits of recycling could provide incentive for more organizations to find innovative solutions for this waste stream.
It increases awareness about recycling. Beyond reducing plastic waste at the ballpark, this partnership also aims to raise awareness about recycling. Even at limited capacity, hundreds of thousands of fans will be at the ballpark during the 2021 season and will learn about the recycling program and its potential impact. 
It continues SC Johnson's progress fighting plastic pollution with local solutions. Inside our own walls, we're working hard on efforts like tripling the amount of post-consumer recycled (PCR) plastic content in our product packaging. Outside, partnerships like our work with Plastic Bank help encourage recycling and promote sustainable packaging.
"We all need to work together to help close the plastic recycling loop, and I hope this first-of-its-kind initiative with the Brewers will serve as a model for other major league teams, companies and even other sports leagues," said Fisk Johnson, Chairman and CEO of SC Johnson.
SC Johnson and the Brewers have also come together in 2021 to provide more access to hand hygiene. Soap and hand sanitizer dispensers have been added throughout the ballpark, courtesy of SC Johnson Professional. American Family Field is also now using SC Johnson Professional and Scrubbing Bubbles® products for its cleaning and disinfecting needs.