3 minute read
In the Fight Against Malaria these 56 Clinics Help Families
Imagine if each time you felt ill or needed medical information, you had to walk up to three hours to reach the nearest clinic. For years, that was the case in Rwanda, where families at risk for malaria and many rural communities had limited access to health services.
Now consider the
danger of malaria
. According to the World Health Organization, in 2019, there were an estimated 229 million malaria cases worldwide. Over 400,000 people died, and children under the age of 5 represented the most vulnerable group.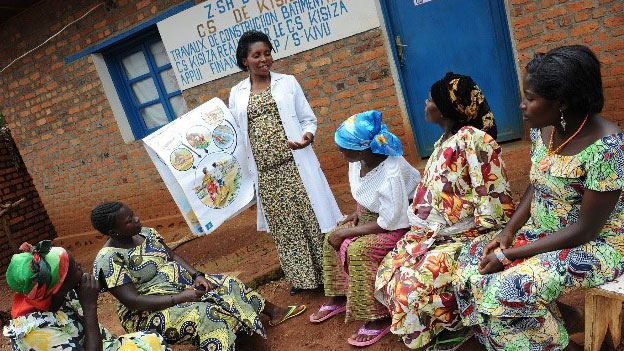 Community members attend an educational session on mosquito prevention.
Public health support can make a major impact, through education about malaria prevention and the distribution of resources like mosquito repellents, bed nets and medicines. 

As a family company working for a healthier world, we knew SC Johnson could help. Here is a look at some of our actions over the years:

2017: Teamed up with The Coca-Cola Co., Solarkiosk and the Society for Family Health on the EKOCENTER social business programme in Rwanda, adding mosquito repellents to the programme's women-run shops that meet basic needs in underserved areas. 

2018: Committed to increase public health access for families by supporting 10 new health clinics across Rwanda with the Rwanda Ministry of Health and the Society for Family Health. The clinics address health issues including malaria, HIV/AIDS, family planning, nutrition and access to clean water. 
2019:Expanded partnership to add another 40 clinics throughout Rwanda, expanding access to health care, malaria education and other public health support for more than 200,000 people.

2020: Surpassed the goal, with SC Johnson support enabling 56 clinics in Rwanda, all of which are now open and operational. We also funded a clinic in Sumba, Indonesia that has already served over 11,000 people. In 2020, the health clinics cared for 184,000 patients, including treatment of 5,000 malaria cases.

More recently, the SC Johnson funded health clinics have facilitated teaching and preventive practices for COVID-19 including TV screens that play health messages and hand washing facilities. Some of the sites are now also being used as a location to administer the COVID-19 vaccine to local families. It is another great reason why making public health services accessible has a positive impact for all.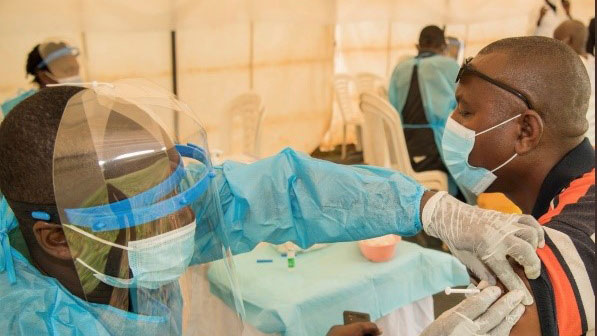 Local community members receive the COVID-19 vaccine at the SC Johnson sponsored health clinics in Rwanda.
SC Johnson also continues to partner on a multi-year, global programme to investigate how spatial repellents could help reduce mosquito-borne diseases like malaria and dengue. Recent research in
Indonesia
and
Peru
suggest that spatial repellents can have real-world impact in lessening disease transmission. 
Describing the impact of the Rwandan clinics,
our Chairman and CEO Fisk Johnson
said, "Access to malaria education is vital and access to health care overall is transformative. We are thrilled SC Johnson can help as we continue our work to fight mosquito-borne diseases and provide more families with access to a better life."