5 minute read
Global Partnership with Plastic Bank Fights Ocean Plastic Pollution and Poverty
In 2018, we kicked off a partnership with Plastic Bank, one of the leading organisations working to reduce ocean plastic, and opened nine recycling centres in Indonesia with the goal to stop plastic before it ever gets into the ocean.
Beyond doing good for the planet, this partnership plays an important role in helping families in impoverished areas. Doing what's right for people and the planet is important to us at SC Johnson, and in 2019, we're expanding the Plastic Bank partnership with a ground-breaking, three-year deal to create a total of 509 plastic collection points across the globe. 
"More than 8 million metric tons of plastic leak into the ocean every year, so building infrastructure that stops plastic before it gets into the ocean is key to solving this issue. I'm particularly pleased that this programme we developed with Plastic Bank helps to address poverty and this critical environmental issue at the same time."
- Fisk Johnson, SC Johnson Chairman and CEO
Global Partnership
The three-year effort will create recycling infrastructure on a massive scale spanning five countries including Indonesia, Thailand, the Philippines and Vietnam – four of the five countries that contribute most to ocean plastic – and Brazil.
The 509 plastic collection points are expected to collect 30,000 metric tons of Social Plastic® over three years. The equivalent of stopping approximately 1.5 billion plastic bottles from entering waterways and the ocean.
The collection points also provide opportunities for residents to gather plastic waste in exchange for digital tokens. The collected plastic is then recycled and sold into the market as Social Plastic® which we are purchasing back at a premium and in 2020, will be incorporating into our iconic Windex® brand in both the USA and Canada. 
Addressing Poverty and Pollution: How Social Plastic® Works
 Developed by Plastic Bank, Social Plastic® refers to the ecosystem that creates recycling infrastructure in the world's poorest regions and invites residents to earn a stable income by joining recycling efforts.
Plastic collectors can substantially boost their incomes, according to Plastic Bank, as they receive the top market rate, plus premium, for the plastic they collect. Collectors are paid in digital tokens using blockchain technology and can use those tokens to buy goods and services. Collectors are on track to earn $300,000, or 4.2 billion Indonesian Rupiah, annually in Indonesia alone. 
"Together with SC Johnson, we now have the ability to help close the loop and advance a circular economy while developing infrastructures in the areas where it is needed the most."
- David Katz, Plastic Bank Founder and CEO
Meet the Collectors
Ibu Wangi
Ibu Wangi is a widow, working to support her family alone. She's a helper in Kreneng Market, but wanted more income. When an SC Johnson Plastic Bank branch opened near her, she started collecting plastic around the market when her work is done each day. She saves all her recycling income for her son's school tuition.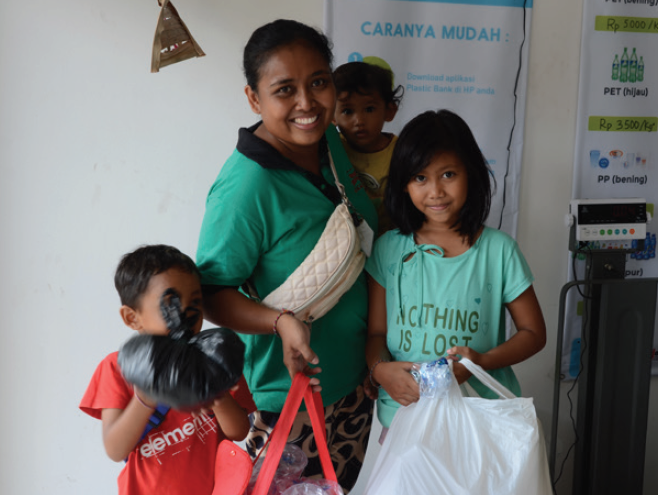 Ibu Kinten used to sort and clean plastic collected by her husband. When he passed away, she had to do the job alone despite her grief. With the digital income she receives from Plastic Bank, she's found a source of security. She says Plastic Bank not only helps her income, but makes her feel motivated again since she knows there's a way out of her financial difficulties.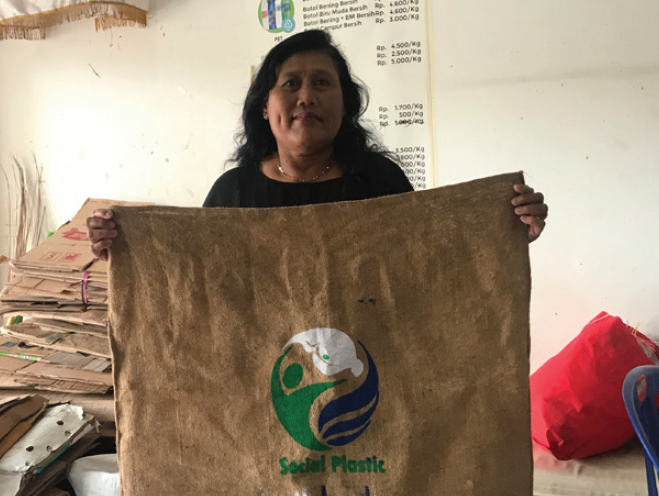 Bapak Wayan Musadi started collecting recyclables to supplement his income, but felt he wasn't getting a fair price from the junkyard. Now, he brings them to an SC Johnson Plastic Bank collection point where they're weighed on a digital scale and he's paid through the blockchain app. He says he's finally able to provide better food for his family now.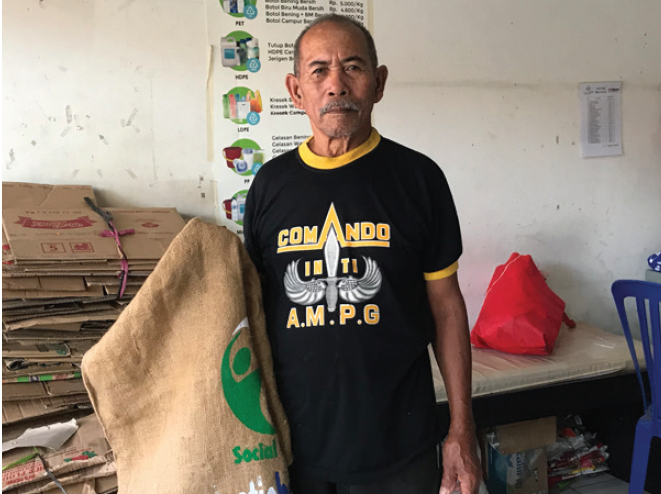 At Work for a Better World – A Multi-Faceted Approach to Reducing Plastic Waste
SC Johnson's new partnership with Plastic Bank is just one of the many ways we're fulfilling our commitment to helping tackle the plastic pollution problem. We have steadily increased the use of post-consumer recycled (PCR) plastic in our products and have reduced excess plastic wherever possible.
100% of our plastic packaging will be designed to be recyclable, reusable or compostable by 2025
Post-consumer recycled (PCR) plastic is used in several of our product lines including Windex®, Scrubbing Bubbles® and Glade®.
1.7 million kg of plastic was removed from main packaging during tax year 2018/2019.
Expanding Offerings Concentrate Products
Every time a consumer chooses a concentrated product, they use nearly 80% less plastic. That's why since launching Windex® concentrates back in 2011, we have expanded our refill options to other popular cleaning brands including Mr Muscle®, Scrubbing Bubbles® and fantastik®.
The newest line of SC Johnson concentrates launched in the United States and Canada in July 2019, with Scrubbing Bubbles®, Windex® and fantastic® refills. This was followed by the next wave of concentrated refills which launched in Mexico, the United Kingdom, China and Japan in the autumn of 2019 and included the international home cleaning brand Mr Muscle®.
Ellen MacArthur Foundation – The New Plastics Economy Global Commitment
In 2018, our Chairman and CEO, Fisk Johnson, was chosen as one of only a select few CEOs to sign The New Plastics Economy Global Commitment. The initiative is led by the Ellen MacArthur Foundation in collaboration with the UN Environment to establish a common vision for companies to help create a circular economy for plastic.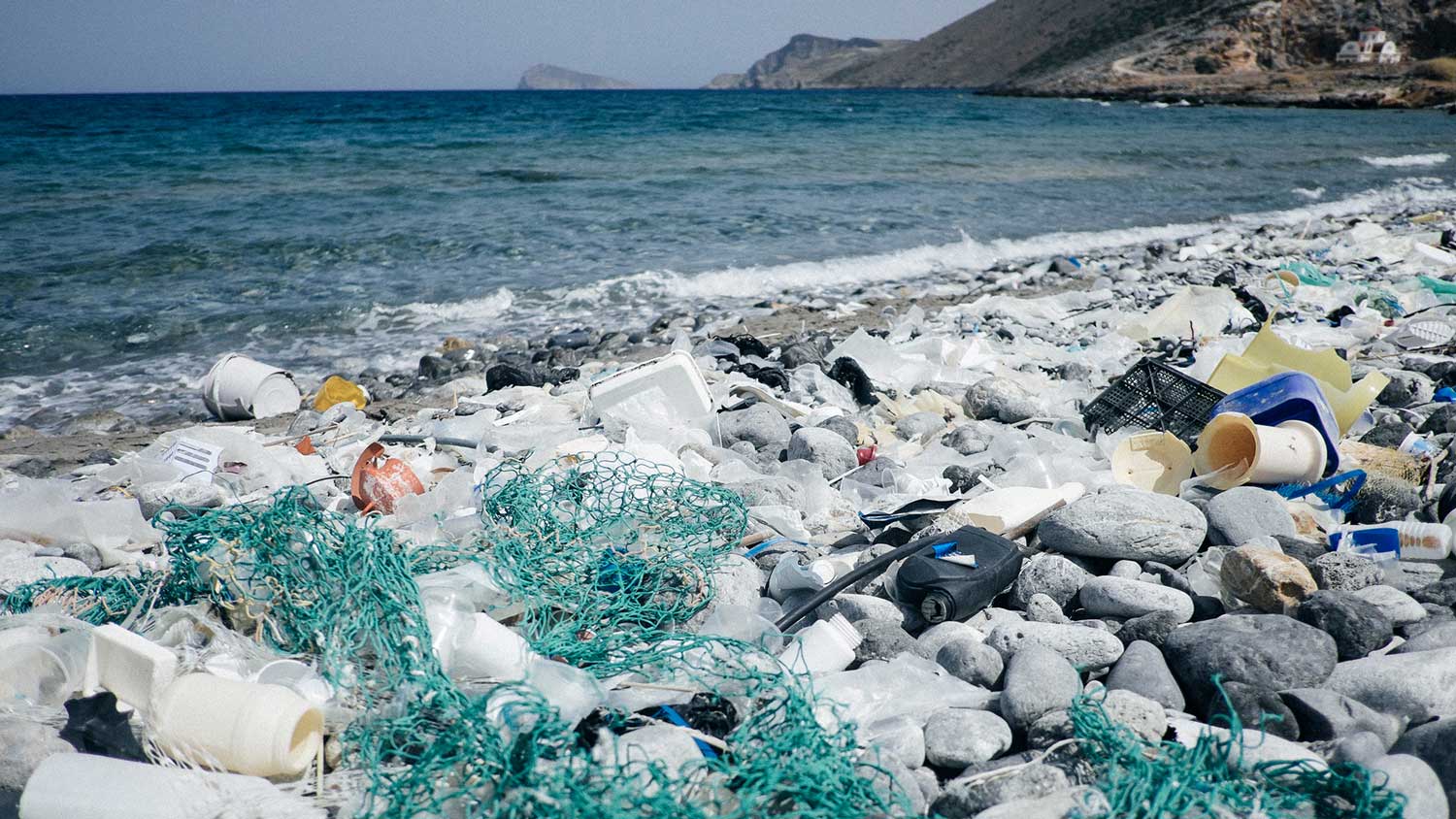 See how we're advocating and raising awareness to bring an end to the ocean plastic pollution crisis.