6 minute read
SC Johnson's Greenlist™ Programme: Choosing Product Ingredients to Better Protect Human Health and the Environment
When you make something new for your family, you probably consider the ingredients you use to be sure they are good choices that your family will enjoy. Our product development process is not all that different. 

Since 2001, the SC Johnson Greenlist™ ingredient selection programme has guided us, helping continually improve our products by choosing ingredients to better protect human health and the environment.

It is not inexpensive, and it goes well beyond what is legally required. But it is our commitment to you and to every family that uses our products that we will always make the most informed choices we can. That means spending time and resources to evaluate ingredients and using this information to determine how to make our products effective and safe.
Our Greenlist™ Programme Evaluates Every Ingredient
Every ingredient in every SC Johnson product goes through our rigorous Greenlist™ programme. Its centerpiece is a science-based, four-step evaluation that looks at both hazard and risk. It is grounded in best-in-class data collection and driven by our commitment to continually improve our products.

We take great care to choose ingredients that pass each of the steps in our four-step evaluation. There are a small number of cases where the best available ingredient, like the active ingredient in an insecticide, might fail one of these steps. If so, it goes through a product risk assessment to determine the level that is safe for humans and the environment. Then we apply an added degree of caution.

Our evaluation looks at these criteria:

Step 1: Chronic human health hazards, such as the potential to cause cancer or reproductive diseases. Our data sources for this include California Proposition 65 and the World Health Organizations International Agency for Research on Cancer monographs. We take an abundance of precaution with this step, and the vast majority of ingredients we use pass it. Of the very few that fail, which tend to be ingredients in products like insecticides, we set a safety factor that is over a thousand times lower than the lowest level that could possibly impact human health or the environment.

Step 2: Long-term environmental hazards, meaning the potential to persist, accumulate and be toxic in the environment, what is known as being a "PBT." Our data sources for this include the European Chemical Agency (ECHA), ECHAs Substances of Very High Concern list and the U.S. Environmental Protection Agencys PBT Profiler and criteria for PBT assessment. Like Step 1, any indication of being a PBT will cause an ingredient to fail the evaluation, triggering an assessment of safe use as explained below.

Step 3: Acute risks to human and environmental health, such as mammalian or aquatic toxicity. Instead of the long-term effects examined in Steps 1 and 2, this step looks at potential short-term effects like skin irritation or the release of volatile organic compounds (VOCs) into the air. Our data sources for this include supplier Safety Data Sheets, the U.S. National Institutes of Healths TOXNET, and the Organisation for Economic Cooperation and Development guidelines. The intended use for some of our products influences this evaluation. For example, we want our insecticides to be toxic to bugs but safe for humans. So, for certain ingredients, when used in certain products, we allow for different levels of impact.

Step 4: Other potential effects, for example whether an ingredient could cause an allergic reaction on the skin. The Greenlist™ programme is designed for continuous improvement – both in our products and the programme itself. This final step considers areas where data and methodologies are still being developed and we might want to consider new criteria to add in the future. Right now, our focus is skin allergens. We wanted to go beyond convention and offer greater transparency, so we developed a science-based, externally valid process for skin allergen identification and transparency. While these ingredients are used only in amounts that are unlikely to cause issues, we felt this new Greenlist™ criteria added even more helpful information for consumers.
SC Johnson Goes Beyond Common Standards for "Safe"
Any potential ingredient on Earth – including oxygen and water – can be toxic at a high enough amount. And at a low enough exposure, everything is safe. So, every ingredient in an SC Johnson product must be assessed to determine how much is and is not safe. There are industry standards for safety, of course. But at SC Johnson, we go further.

We start with a hazard assessment using information from our ongoing data collection. That is the four-step evaluation that is described above. When there is a potential hazard, we evaluate the ingredient to determine at what concentration it could be used, if at all, without any known adverse effects to human health or the environment. That is the safe level.

Then, we conduct an additional assessment focused on exposure. For that, we look at how a product is intended to be used, but also how it might be used beyond that intention. For example, a glass cleaning product might end up being sprayed on a kitchen counter where food is prepared. Or, a product intended to be used just once a week might actually be used every single day by someone who cleans for a living.

We consider the broadest likely use, and go beyond that, in selecting what ingredients we will use and at what level.
Natural vs. Chemical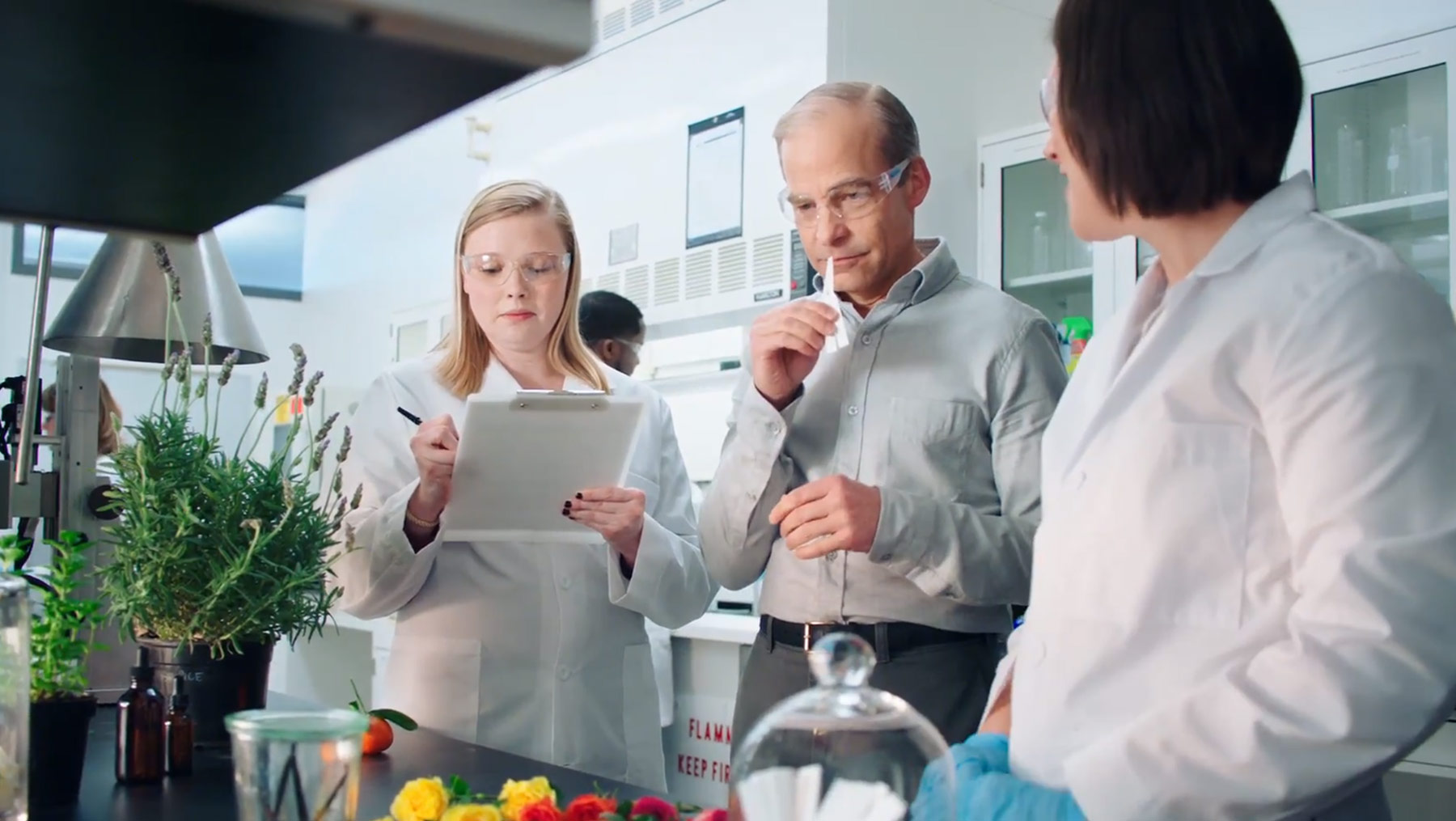 Our Decisions are Based on Best-in-Class Scientific Data
The four-step ingredient evaluation that's fundamental to our Greenlist™ program uses supplier information and publicly available, scientifically rigorous data. 

We also maintain a list of ingredients that are not allowed, called our "Restricted Use" list. It includes over 200 unique raw materials in roughly 90 material categories. 

These materials all meet legal and regulatory requirements — and are often used by our competitors. But they simply do not meet SC Johnson standards.

Some ingredients get on the list pretty quickly, such as PVCs. Others require more extensive assessment related to potential exposure and risk considerations for products. Our Restricted Use list is reviewed regularly to ensure it captures any new science or changes in government policies or regulations. 

While we work to avoid Restricted Use materials in SC Johnson products, occasionally situations arise where we cannot avoid them. This is typically because there isn't an available alternative that delivers the same performance or meets requirements for the manufacturing process, or because available options are too cost restrictive.

In these very few cases, an exception to continue using the material may be granted, but these exceptions are rare and are reviewed every two years at the highest level of the organization.
"The SC Johnson Greenlist™ methodology is a robust, consistent, scientifically rigorous, flexible and innovative methodology to guide the company to continuously improve the safety profile of their formulations." 
 -Alexandra Maertens, Ph.D., an expert external review of the Greenlist™ program
Validating our Greenlist™ Program Science and Criteria
Over the years, as the SC Johnson Greenlist™ program has continued to grow and develop, we have shared it with experts and scientific authorities. It was created with input from experts such as the U.K.'s Forum For the Future and the U.S. Environmental Protection Agency, and has been reviewed by organizations such as the World Wildlife Fund.

It also has been recognized with awards including the 2015 World Environment Center Gold Medal Award, 2011 Safer by Design recognition, the 2006 Presidential Green Chemistry Award, and the 2006 Ron Brown Award for Corporate Leadership.

Still, we keep evaluating it and looking for opportunities to improve. In 2017, we shared the details of the Greenlist™ program with leading experts in human and environmental toxicology for their independent review. Their feedback validated the Greenlist™ program, the underlying criteria and data we use, and our science-based approach to selecting ingredients that takes into account both hazard and risk. 

For example, reviewer Alexandra Maertens, Ph.D., a toxicologist for the Consortium of Environmental Risk Management and research at the Johns Hopkins Bloomberg School of Public Health, noted: 

"The SC Johnson Greenlist™ methodology is a robust, consistent, scientifically rigorous, flexible and innovative methodology to guide the company to continuously improve the safety profile of their formulations. The methodology involves a comprehensive analysis of data, a clear formula for evaluating the quality of the data and a careful weighing of hazard within the context of expected exposures and therefore risk."

Another reviewer called our balance of hazard and risk assessment approaches "refreshing to see." 

See more details about our Greenlist™ program in our 2017 SC Johnson Sustainability Report.