15 minute read
How SC Johnson Works to Enable Better Lives at the Base of the Pyramid
At SC Johnson, we have long been committed to making life better for families around the world. Since 1937, we've given 5% of all pretax profits to charities. Twenty years ago, we set out to do even more to help some of the world's most vulnerable populations.
 
We started looking at how we could help raise standards of living and provide opportunities for a better quality of life for the 4 billion people at the base of the world's economic pyramid – what's known as the "base of the pyramid" or "BOP."
In the Ghanaian village of Tafo, we've implemented mosquito traps for the prevention of malaria since 2003.
We invested in efforts like the Rwanda Pyrethrum Project to improve incomes and standards of living for pyrethrum farmers. Pyrethrum is a plant-based insecticide extracted from heads of dried chrysanthemum flowers.
We partnered with Cornell University's Center for Sustainable Global Enterprise to explore new ways to help reduce the transmission of malaria with a business model that brought repellents and insecticides to rural families. 
We also teamed up with The Coca-Cola Co., Solarkiosk and Society for Family Health Rwanda as part of the EKOCENTER program that provides water, sanitation, solar energy and products at rural retail kiosks run by women. 

And in recent years, we've done even more, focusing specifically on mosquito-borne disease prevention. As our Chairman and CEO Fisk Johnson explains, "Insect-borne diseases are a serious threat to families around the world. We remain dedicated to continuing our leadership in researching insects to help improve family health." 
Enabling Mosquito-Borne Disease Prevention
The SC Johnson Base of the Pyramid Group prevents disease for the world's poorest four billion people. We leverage the best of commercial and philanthropic strategies to deliver affordable and economically-sustainable mosquito-borne disease and hygiene solutions.
Mosquito-borne diseases can have a devastating effect on individuals and communities, and we are committed to helping protect people in vulnerable, difficult to reach communities.
The SC Johnson Base of the Pyramid program team is working to reduce mosquito populations and encourage education about mosquito-borne diseases like malaria, and create sustainable business solutions to help strengthen communities in developing countries. The BOP program leverages the best of commercial and philanthropic strategies to maximize social impact and achieve financial viability at scale.
Through the 2017/18 fiscal year, the BOP program had reached more than 1.7 million people across seven countries with local programs designed to teach mosquito bite prevention strategies. Through support of
community health posts in Rwanda
, access to health services was created for more than 60,000 people – and these posts are expanding with the company's 2019 commitment to
build 40 more health posts
. 
The team is also
working with strategic partners
 to research, design and test new means of preventing mosquito bites.
Who We Serve: Families of the BOP
Here's a look at the lives of three people who are among the billions living at the base of the pyramid around the globe.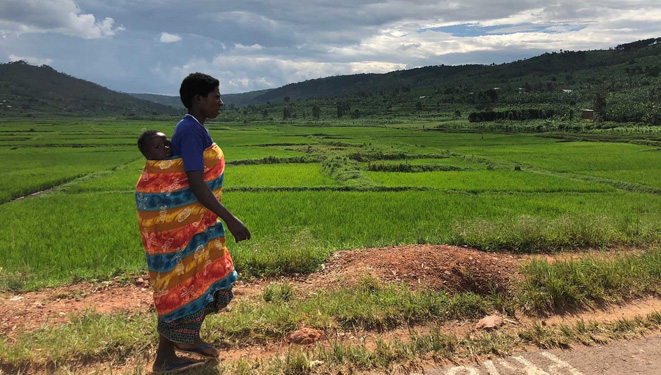 Meet Sonia from Nyanza Province, Rwanda
Sonia is a subsistence farmer who lives in the village of Gatsinsino in Nyanza Province, Rwanda. 

Every member of her family has been affected by malaria. Through a local health clinic, Sonia learned how to protect her family from mosquito-borne diseases – sleeping under mosquito nets, clearing brush around the home, discarding stagnant water and mosquito repellents. 

But even though she recognizes the importance of these activities to protect her family, she must make difficult choices with the fluctuation of her daily wages, which are dependent on her work tending crops. At times, little is left after she buys food and pays for her children's school fees, leaving her family more vulnerable to mosquitoes that may carry disease.

There are malaria interventions available to Sonia, but they can be disruptive and difficult to accommodate between the demands of work and family. For example, when government workers visited her village to spray homes with an indoor residual repellent spray, she declined. 

Villagers had been advised to cover large pieces of furniture and empty the home of all portable household items in advance. Sonia refused the spraying because, "I was too busy working to leave time to clear out my whole house."

Learning: Spending time with people like Sonia and her family reinforces the need to provide solutions that are not only accessible and affordable, but seamlessly fit into her life, align with her priorities and even make her life better. 

Actions: To address this challenge, we're partnering with organizations like Notre Dame and Unitaid to develop and advance mosquito repellent products for inclusion in global public health programs.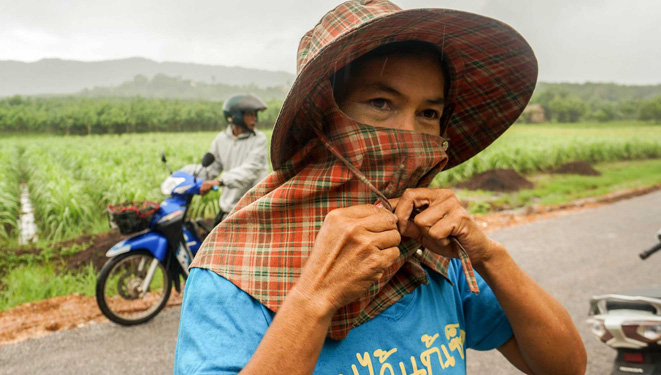 Chit Aung from Mawlamyine, Myanmar.
Meet Chit Aung from Mawlamyine, Myanmar
Chit Aung wakes up every day at 1 am to go work at a rubber plantation tapping rubber until 8 am. She lives with her two children in Mawlamyine, Myanmar. 

Rubber trees produce more latex at night, so it's important to start work very early in the morning. At 8 am, she cures the rubber, grinding the sap and then rolling it into sheets of rubber to sell at the local market. She can make about three sheets of rubber a day, which earns her 3,000 kyat (about $2 USD) per day.

Chit Aung says there are fewer mosquitoes because deep forested areas have been cut down to create rubber plantations. However, this doesn't keep mosquitoes from being a nuisance while working -- especially during the rainy season. She doesn't bring mosquito repellent with her because she can't afford to use repellent lotions every day. 

As a workaround, she does what she believes will help to protect herself from mosquitoes, even if it is less effective than a repellent product. She wears long sleeves and long pants to cover her skin and knee-high boots to protect herself from snakes. At times, she even smokes cigarettes, which she incorrectly believes will repel the pests. She adds, "as long as you keep moving, mosquitoes won't be able to bite you."

She knows malaria comes from mosquitoes, but a critical barrier for Chit is that she doesn't understand that mosquito-borne diseases are spread through mosquito bites. For example, she mistakenly believes that if a mosquito touches a banana or falls into drinking water, then a person is at-risk of contracting malaria. A better understanding of how mosquito-borne diseases are spread through mosquito bites would give Chit greater appreciation for the role of mosquito repellents to protect her family.

Learning: Many of the people we seek to serve live in remote, rural communities that lack access to basic goods and services. We also find that there is typically limited to no awareness of how mosquito-borne disease can be spread and the preventative offerings available. In some cases, people carry misbeliefs about mosquito-borne diseases or prevention that have been passed down from previous generations.

Actions: To address this challenge, we are working with partners in Rwanda to develop national standards to address mosquito-borne diseases, and leverage social behavior change (SBC) to create awareness of malaria, interventions and behaviors that can prevent the disease.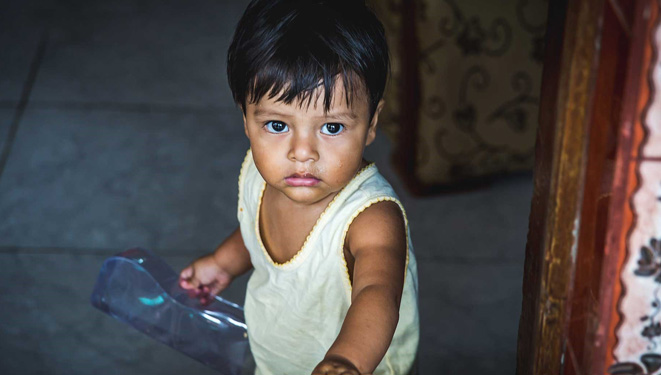 One of Ann's children. Anna is a housewife who lives in Belén, Peru.
Meet Anna from Belén, Peru
This is one of the children of Anna, a housewife who lives in Belén, Peru. Her home is made of corrugated metal and plywood donated by family members and friends
.Many of the family's possessions are donations, gifts, or salvaged materials. Anna's husband, Jacob, works as a laborer, earning a low, inconsistent wage. He earns enough for food, clothing and a few household items but not much else.
Belén sits along the Itaya river. When the water rises, it signals the beginning of mosquito season. Anna struggles to sleep in the evening because of the constant biting and fear that her children might get sick from dengue fever. When her oldest daughter had hemorrhagic dengue fever -- nurses at the local health clinic recommended lighting mosquito coils underneath her children's bed and cleaning the floor with bleach and petrol.
Health workers visit Belén at the beginning of mosquito season to document cases of dengue fever and teach households about mosquito nets. Anna believes that mosquito nets are effective but unbearable to sleep under during the humid rainy season. "I can't sleep under a net because it's too hot—if I sleep outside the net I will be eaten alive by mosquitoes. Either way I don't sleep," she says.
Learning: Spending time with people like Anna and her family reinforces the need to provide solutions that are not only accessible and affordable, but seamlessly fit into her life, align with her priorities and even make her life better.
 
Actions: To address this challenge, we take a human-centered approach with organizations like the Bill & Melinda Gates Foundation, and immerse ourselves in our end users' lives to genuinely understand their priorities, how they live their lives, and what's truly important to them. 
Making an Impact: SC Johnson's BOP Strategic Principles
To help families in the base of the pyramid communities – and people everywhere – the SC Johnson BOP program is focused on malaria as its highest priority. Half of the world's population is vulnerable to this deadly, but preventable mosquito-borne disease. 

Our team has spent time with families in areas where malaria is prevalent, learning about how families live, their aspirations and values. And as part of that, finding ways to overcome the barriers to prevention where they exist, whether it's access, cost or awareness. 

Our work is in service to our mission to enable mosquito-borne disease prevention in global communities by delivering affordable offerings that are tailored to the world's poorest 4 billion people.

So far, the BOP team has engaged with 1,000+ community members in their villages and homes, and 150+ members of Ministries of Health and non-governmental organizations (NGOs) working on reducing mosquito populations, mosquito bites and mosquito-borne disease prevention methods. The team has also participated in nine co-creation sessions with partners to explore new mosquito control interventions. 

It's not easy. Creating economically sustainable business models that can be scaled throughout BOP communities is difficult. They often involve new distribution channels, new interventions and new behavior change campaigns. The team continues to try new solutions, and to gain insights from each experience, whether it works or doesn't.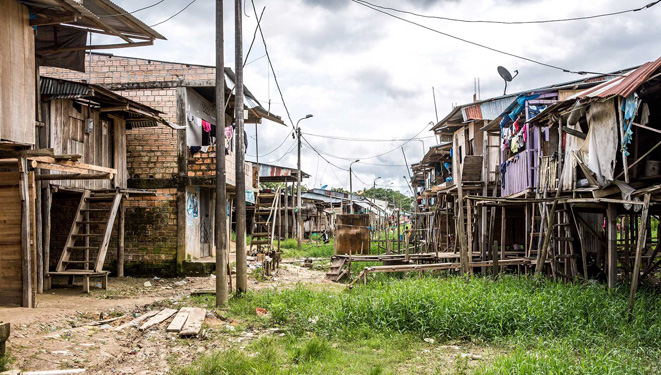 A base of the pyramid village.
Using all that we continue to learn, SC Johnson's BOP program aims to drive continual progress against mosquito-borne diseases like malaria through these strategic principles:
Scale for Greatest Impact - Pilot and implement initiatives that have a clear path to scale in multiple countries and regions.
Provide Access - Deliver life-saving, user-desirable and affordable interventions to people in poor, vulnerable, and difficult to reach communities by leveraging new-to-SC Johnson supply chains and strengthening existing ones.
Leverage Core Competencies - Use our expertise as the leading manufacturer of household pest control products to deliver solutions that enable mosquito-borne disease prevention.
Seek Strategic Partnerships - Capitalize on the power of partnerships with government, industry, and nonprofit entities to create impact that goes beyond what SC Johnson can implement independently.
Build Social Enterprise Models - Create social impact through initiatives that aim to achieve financial viability at scale.


There has been tremendous progress, but we will not rest. We continue to test, learn and explore new avenues to create access and develop interventions that reach people in the world's most vulnerable, poorest and hard-to-reach communities. We will build upon what works and learn from what doesn't.