5 minute read
SC Johnson and the Fight Against Malaria
For decades, SC Johnson has been using its expertise and capabilities to make contributions toward eradicating malaria and helping make life healthier and better for families. We're honored to partner with and support multiple organizations that help us go far beyond what we could do alone.
Malaria: A Global Public Health Issue
Malaria is a preventable, curable but potentially life-threatening disease caused by a one-celled parasite in the genus Plasmodium. Malaria is transferred when the female Anopheles mosquito feeds on a person who has malaria. The malaria parasite is then transmitted to the next person via mosquito bite. 
According to the World Health Organization (WHO), nearly half of the world's population was at risk for malaria in 2019.1 Although progress has been made in reducing mosquito-borne disease mortality rates, WHO has indicated that malaria cases have significantly risen in several countries, with many of the most vulnerable communities unable to access prevention methods regularly.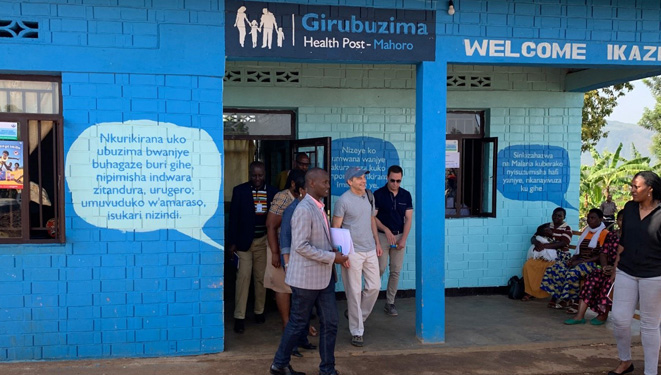 An SC Johnson-sponsored health post in Rwanda.
A Healthier World
Here are six ways we work to support a healthier world around the globe: 
In 1957, we opened one of the largest private, urban entomology research centers in the world, today known as the SC Johnson Institute of Insect Science for Family Health. The Institute's scientists work tirelessly to understand how to best protect against mosquitoes that may carry diseases and create products to manage and eliminate them.
We've been working with the University of Notre Dame and the Eijkman Institute for Molecular Biology, with funding from the Bill & Melinda Gates Foundation, to prove the effectiveness of low-cost spatial repellents for reducing malaria transmission. Following trials in Indonesia and Peru, our spatial repellent, Mosquito Shield™, is being used in large-scale clinical trials funded by UNITAID in Kenya, Mali and Sri Lanka.
Our Base of the Pyramid (BOP) group works with non-governmental organizations (NGOs) worldwide to help educate communities on how to avoid mosquito bites and prevent disease transmission.
In partnership with the Rwanda Ministry of Health and the Society for Family Health Rwanda, we have established 68 health clinics across 

Rwanda which help address malaria along with other public health issues including HIV/AIDS, family planning, nutrition and access to clean water. 




We've also expanded our efforts and opened our first SC Johnson health post in South Sudan near the Uganda border and Sumba, Indonesia.

We've joined partners from the East African Community (EAC) to sign an MOU supporting the Great Lakes Malaria Initiative & build on our efforts to help address threats like mosquito-borne disease, improve health and save lives.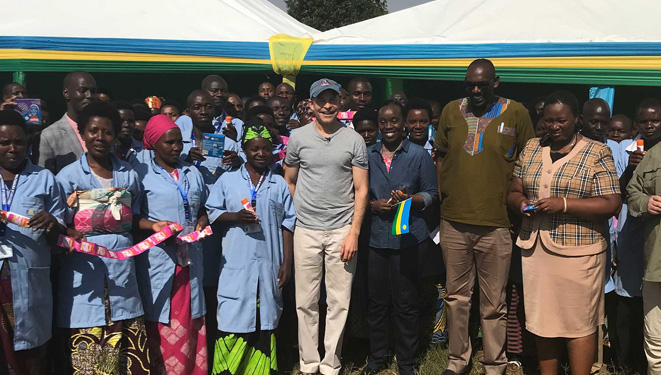 Our CEO Fisk Johnson with the
 Rwanda Ministry of Health.
Today, and every day, we strive to make the world a better place for generations to come. We are honored to work with our partners and organizations to help those in need around the world.