3 minute read
Big Red Summer: Challenging LFC Fans to Be Sustainable at Anfield & At Home
At SC Johnson, we're working toward creating a better world. Our partnership with Liverpool Football Club is just one of the examples of how we're working to leverage the power of sports and education to reduce plastic waste and create a more sustainable world.
Using Sports & Education to Reduce, Reuse & Recycle!
For the second year, SC Johnson teamed up with LFC Foundation for Big Red Summer, a program that encourages young people and families to get active and to learn the benefits of sustainability. 
Last year, Big Red Summer programming engaged 7,500 young people across the Liverpool community. This year, we increased our impact, reaching over 15,000 young people and families that participated in Big Red Summer activities. These activities included football and sport camps, park events, and community festivals, all which reinforced the importance and benefits of reducing, reusing and recycling.
Big Red Summer with SC Johnson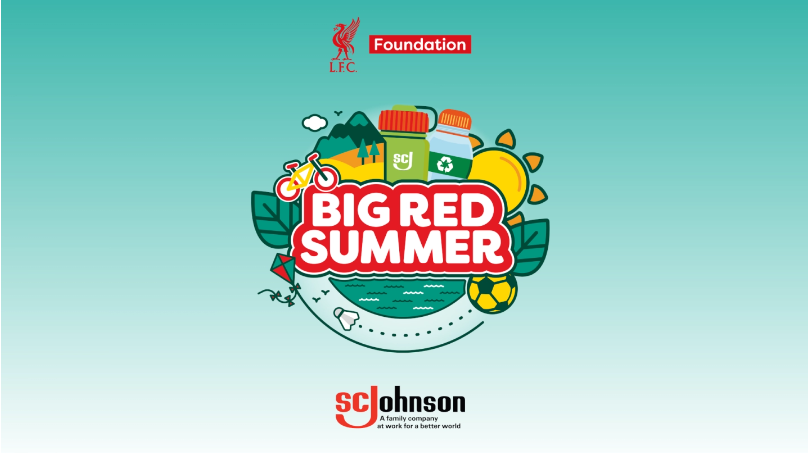 In addition to encouraging adopting reducing, reusing and recycling behaviors in participants' day-to-day lives, we also encouraged Big Red Summer participants to bring reusable water bottles to the sessions. These small changes not only help reduce single-use plastic waste, but also provide an opportunity to further educate families and young people about the benefits of reusing. 
Our commitment doesn't stop with Big Red Summer. Throughout this season, we're working closely with LFC to reduce waste across the club by 10 percent. This goal can only be achieved with everyone's collective efforts. That's why we're excited to incentivize fans by now offering them the opportunity to earn rewards for recycling at Anfield Stadium and completing sustainability-related educational activities. By scanning a QR code while recycling plastic cups at SCJ-branded recycling bins, fans can earn points toward gear, giveaways and other special opportunities.  
Fans can now scan a QR code while recycling at Anfield Stadium to earn MyLFC rewards points. 
Through educating fans about the importance of implementing the reduce, reuse and recycle concept in their everyday lives and closing the recycling loop with our sports partnerships, we're making strides in our efforts to address the plastic waste crisis. This global issue will require the collective efforts of everyone to make meaningful change, but together, we can make changes as we work to create a better world.