6 minute read
Tuition-Free: SC Johnson, CEO Support Community College and Careers with Funds for Gateway Promise
When it comes to strengthening communities, at SC Johnson we think two critical areas of focus are education and economic development. It's true everywhere we operate, including our headquarters hometown community – Racine, Wisconsin – where we've been for more than 130 years. 
We believe we have a social responsibility to invest in local education, technical skills and job opportunities not just for the good of the community, but also because its people are an important part of our future workforce. As an example, we've donated upwards of $3.5 million to Racine's 
Gateway Technical College
 over the years.
The issue of college tuition has become increasingly significant in national conversations. And partnerships between institutions, businesses and communities that support education can make a difference for individuals and their families. 
With this in mind, SC Johnson donated $700,000 — over half of which was a personal donation from Chairman and CEO Fisk Johnson — to the Gateway Promise, which ensures that local high school graduates who meet program eligibility requirements can attend college at Gateway tuition-free.
Corporate Philanthropy Making Technical College Accessible
At Gateway, students receive industry-focused training and practical skills — and our donation is another step towards making college affordable, and employment possible. A program of this scope has the potential to change the lives of many hardworking, low-income students — and the community at large. Now, students who would otherwise fall into the gap between financial aid grants and tuition costs will have the opportunity to chart a path forward.
 
Announcing the gift from Fisk and SC Johnson, Gateway President and CEO Dr. Bryan Albrecht explained, "The Gateway Promise fuels the inspiration and secures the hope that a college education is within the reach of every child's dream." 
 
It's estimated that up to 50% of urban Racine and Kenosha students may qualify for the Gateway Promise program. And with an associate degree or technical diploma, these young adults can be in a far greater position to succeed.
Decades of Partnership with Gateway Technical College
While the Gateway Promise stands out, it's not the first collaboration between SC Johnson and Gateway, or even the largest. We contributed $1.7 million to help the college expand its Integrated Manufacturing and Engineering Technology Center (iMET), which is dedicated to training the local manufacturing workforce. 
 
Another program we've supported is Gateway's Boot Camp, which provides intensive training in a variety of skills designed to meet the needs of local employers and changing industry trends. Sessions have included computer numerical control (CNC), logistics, telecommunications and others.
 
Supporting education with company donations is a long-term commitment at SC Johnson.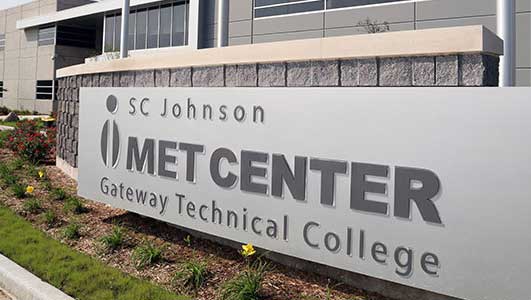 SC Johnson has supported Gateway Technical College for more than 20 years. Photo Credit: Gateway Technical College.

In 2013, SC Johnson received the Ethical Business Leadership Award from Concordia University Wisconsin, in part for its support of Gateway. 

"Leading businesses are faced with more complex challenges each day as our world becomes more interconnected and complicated. To meet these challenges, corporate leaders must make decisions with strong community and environmental values," said Dr. David W. Borst, Dean of the School of Business Administration at Concordia University Wisconsin. 

"SC Johnson is leading the charge to make sure every aspect of their business takes the community and the environment into account. With this recognition, it is our hope that other companies take note and follow their lead." 
A National Dialogue about Tuition-Free Community College
In 2016, SC Johnson helped bring dialogue about the cost of college and the value of community college to the national stage. We joined Gateway on a White House conference call about tuition-free community college programs. 
 
"I think it's really important for people to know that there are programs out there that truly work," our Chairman and CEO Fisk Johnson said of the call. "Programs that serve the needs of business, that serve the need of the community and that serve the needs of those who yearn for a foot on the ladder."
 
Asked why he believes in supporting Gateway's programs, Fisk explained, "There are few things that are more important in this country than breaking down the barriers to income mobility and to help bring a good, life-sustaining wage for those who want to work hard and have a real chance. I wanted to be a witness to that."