8 minute read
Team Building: SC Johnson teams rally together to create a new volunteer manufacturing line and increase hand sanitizer production
At SC Johnson's Waxdale manufacturing plant, a machine is constantly whirling, screwing spray triggers onto the top of bottles. That in itself isn't unusual at the sprawling Mount Pleasant, WI campus that is home to 16 manufacturing lines that produce more than 60 million units of products.
This particular hydraulic sound, however, is coming from a new 17th line – a small, adapted pilot line normally used for new product development and filling test samples. SC Johnson has converted it so that it can manufacture up to 75,000 bottles of hand sanitizer a month for donation to health workers, first responders and SC Johnson's production employees. And to make it happen, SC Johnson teams who were working from home – and typically don't staff production lines – are volunteering to run the line.
"I feel a little bit like Rosie the Riveter," laughs Megan Haechrel as she spins spray caps onto 8-ounce bottles of hand sanitizer with a hand-held mechanical driver. "Not just because of the noise it makes, but because we've all jumped into something that we don't normally do."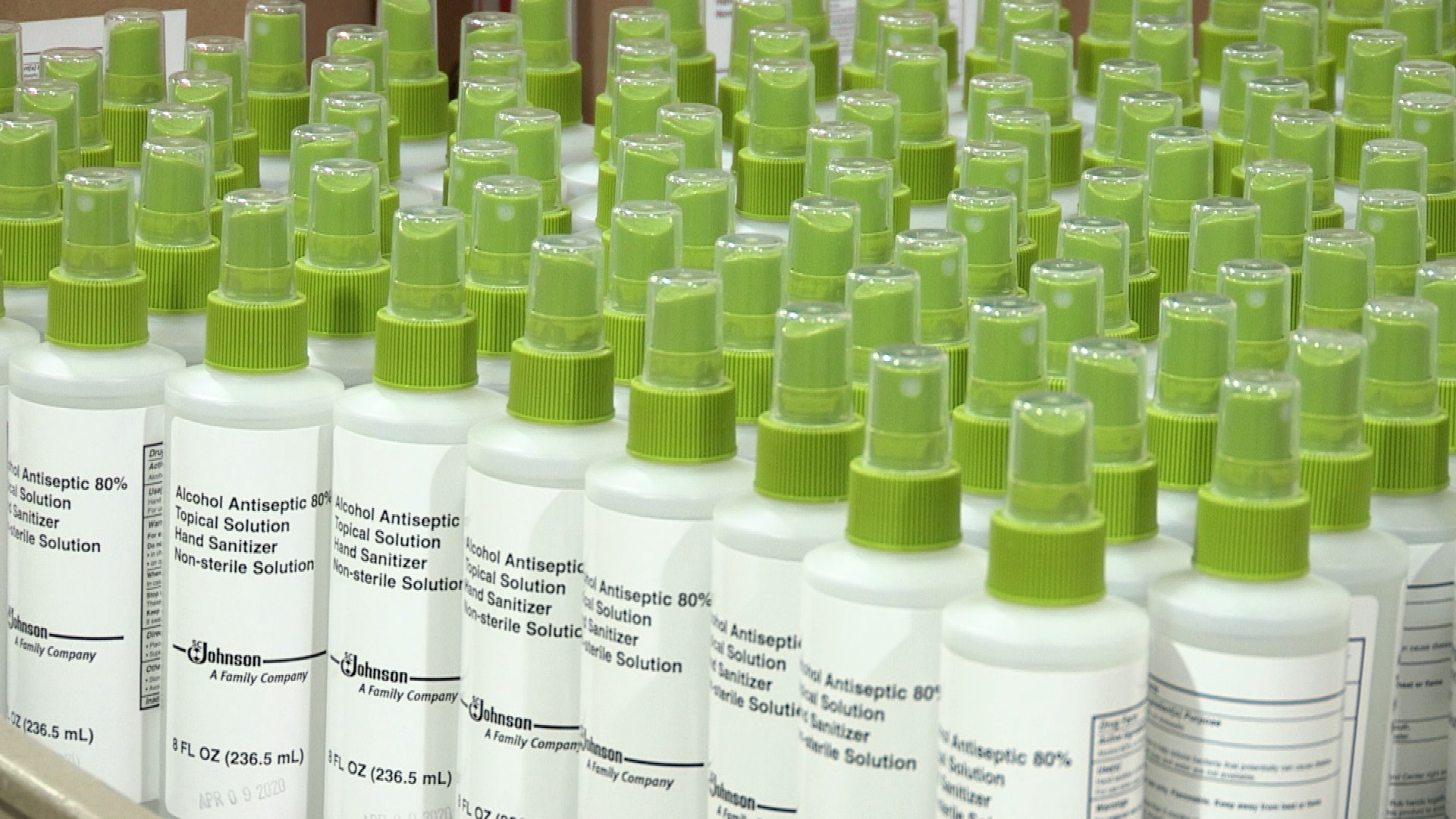 A staple in the fight to help prevent the spread of the coronavirus, hand sanitizer is what the Centers for Disease Control and Prevention (CDC) recommends using if soap and water aren't available. A ready supply of it is needed to protect first responders and medical personnel, who are high among workers facing the greatest risk of COVID-19 infection. These front-line providers are working extra-long hours to care for the community, as are the SC Johnson employees keeping disinfectant and cleaning products on the shelves for customers.
Amid the COVID-19 pandemic, hand sanitizer has become an incredibly scarce resource. SC Johnson, through its SC Johnson Professional and Deb brands, is one of the largest hand sanitizer makers in the world. Given the essential need for cleaning and disinfecting products, and the fact that most production lines are already running 24 hours, six to seven days a week, shifting manufacturing lines isn't an option for the company to increase the production of hand sanitizer. Building any new capacity would take an out-of-the-box approach. And instead of the high-tech, automated processes normally used at a world-class facility like Waxdale, it would need to have more of an entrepreneurial, garage startup vibe.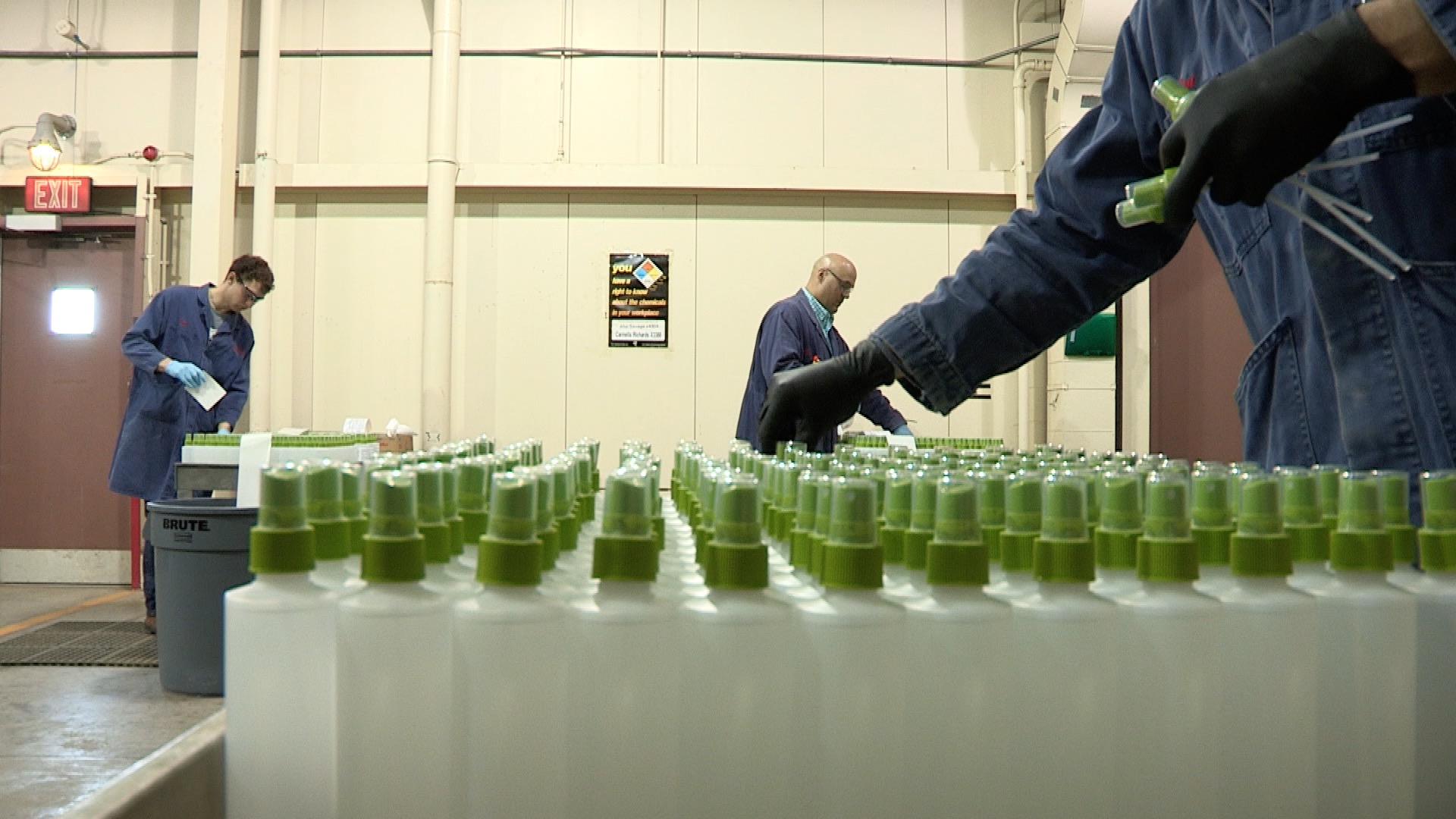 For Patrick Harris, a Senior Director of R&D, the start of the project was a straightforward request during a Friday meeting. "My boss came to me and said, 'We need to start making hand sanitizer – how can we make that happen?'" By Monday, the first set up of the line was being completed and another challenge was being worked – how to source the suddenly scarce materials needed to make bulk sanitizer, or as they referred to it, "the juice."
Since the coronavirus outbreak, demand for the chemical components needed to make sanitizer, such as denatured alcohol, has spiked. To get the new line running quickly, SC Johnson struck up a partnership with Dow Chemical to supply enough bulk sanitizer for an initial run of 25,000 bottles. SC Johnson's Supply Chain team then began securing local raw materials sources so that the Waxdale plant would be able to make the additional juice required for a monthly 75,000 unit run.
To find the additional people needed to run the new line, the team sent out a note asking for volunteers. With so much unknown surrounding the COVID-19 pandemic, they weren't quite sure what kind of response they would get. Those concerns, however, were quickly put to rest.
"Every single person we asked was willing to help," said Harris. "I've had managers from across the company tell me that they have other employees that want to help out. The response was tremendous."
From there, the project came together quickly, said Haechrel. "I think it was about a week between the first meeting to when we started making our first bottles."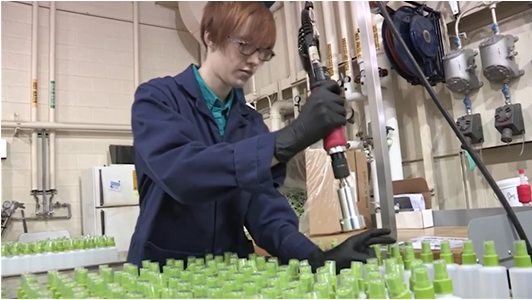 There is a quiet seriousness in how everyone goes about their tasks. There aren't any handshakes or pats on the back for a job well done because of social distancing, but there's a palpable sense of pride and purpose that fills the room.
"I jumped at the opportunity to get on, help set this line up and run it," said Quinn Rashke, whose normal job is as a process development engineer. "I'm just really excited to be able to provide my support and my hands to get this product out the door."
In the short time since manufacturing began, the new line has produced 30,000 bottles. Each one is filled by hand from a machine that looks akin to something that you would get soft-serve ice cream from. Another team member threads sprayers into a waiting tray of filled bottles before they meet the aforementioned Rosie the Riveter, who twists them on like a pit crew member at a Grand Prix race. At another station, the date is hand stamped on a label, which is then manually wrapped on. A dozen bottles are then scooped up, sealed in shipping boxes and stacked onto an awaiting pallet.
It's a process that repeats itself over and over across an 8 to 9-hour shift, where lunch breaks are staggered so that production never completely halts during the day. Volunteers have to occasionally step out to attend critical Skype meetings in support of their regular company roles, but they are all invested in the production line as if they were at the helm of a fast-growing startup.
As any founder can attest to, that sense of purpose makes you feel like nothing can slow you down.
"We've been improving every single day, said Haechrel. "The layout of our processing area has changed daily as we keep getting more equipment to run faster and produce more bottles. We're going to be running like twice the speed we started really soon."
And like clockwork, the team set a new high at the end of the third week for bottles made in a day – 3,907 – shattering the prior record of 2,200 set the week before.